Beyond Skyrim: Bruma credits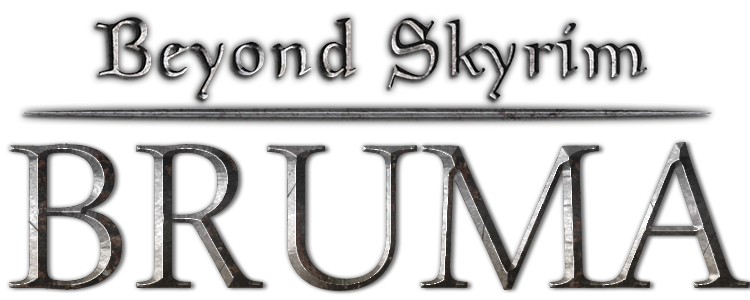 Rich "1shoedpunk" Marin
Bellatrix
Linton "Lasur Arkinshade" Ineson (Director)
Altairattorney
Argor Nash
The Ascended Sleeper
Enstone
Presentdent
Vengeful Peanut
Yonderly
Additional work by:
Rich "1shoedpunk" Marin
William "Deeza" Hillson
Defanderzec
Mizreg
Orion the Above Average
Saenorel
Music by: Daniel "Xae" Ran.
Additional music & bard vocals by: João "Guin" Guerra.
Includes themes by Jeremy Soule.
Special thanks to Sandro Macelloni, The Voices of Heaven Gospel Choir and The Rising Sound.
Steelfeathers (Director 2017+)
Markus Liberty (Director 2013-2017)
Hart
haydebpricw
jonathansty
Kelretu
Matth85
Morcroft
Psychedelic
Simsim
Suran
Dargaron
Andreas Stavaas
Hallgarth
Varlasairan
Viltuska
Ultimatec
1ndajone5
Argor Nash 35
Empremi
Darkstorne
Additional work by:
AlpineYJ
Candall
Ekul
Joseph Crowell
Servus Dei
Transbot
Escha
Kettlewitch
Orion the Above Average
Smalish
Suran
Goretexx
Marta Red Jurkowska
4theonewithoutaname
John Söderberg (Director)
Morcroft
NafNaf95
Perry
MrJGT
Additional work by:
Rich "1shoedpunk" Marin
Chiaro22
Bellatrix (Director)
Ub3rman123
NanoTyrano
simsim899
Chiaro22
RHodeidra
John Söderberg
Were
Additional work by:
Rich "1shoedpunk" Marin
Blackbearjosh
Jmaa
Luffi45
Bellatrix (Director)
Jehoram
Mellowtraumatic
NafNaf95
Paulibobo
simsim899
Trivia
Were
warshunn333
John Söderberg
Additional work by:
Alois
DarkOdin
Dperrea
Humiliation
Ladyonthemoon
Leianne1
Mizreg
Scripting & implementation
Mattiewagg (Director)
Blitz54
Daiyus
exit
flatline
GrimyBunyip
Hyperblast
Kestatwala
Linton "Lasur Arkinshade" Ineson
oliver1706
Paulibobo
Shobby
simsim899
Thingy Person
Tara
Trivia
Were
lazygecko/lazyskeever
John Söderberg
Director: Linton "Lasur Arkinshade" Ineson
ANNA CASTIGLIONI Alina, Lasinia Iron-Heart, Pelena Malumea, Ananril, Additional Voices
ADOXOGRAPHIST Banus Jucani, Ertius Malumea, Leo, Additional Voices
ALEX CAIN Cadius Venucius, Additional Voices
CASSANDRA WLADYSLAVA Additional Voices
CAITLIN BUCKLEY Ereia Snow-Fist, Galarynn, Svenja Strong-Arm, Kalimbria, Additional Voices
CHRISTINE SLAGMAN Aera the Devout, Rilja Stone-Hearth, Sinja Strong-Mind, Ionalla Dark-Heart, Additional Voices
CHRISTOPHER MASSEY Bathes-in-Murky-Waters
DANIEL HODGE Astor Astentius, Blind Balius, Botram the Hammer, Erlus Risula, Gergus Malumea, Ravil Fandrani, Tedral Mendrin, Serulius the Stagnant, Additional Voices
GREY MIND Arilus Quenti, Corvon, Legate Centos Durius, Legate Precilius Varro, Garceus Avoci, Stantus Faleria, Additional Voices
GLEN MICHAEL COOPER Simund Gautierre, Albecius Jucani
GIGARAT Cindaia Malumea, Felki Silver-Plow, Ruccia Jucani, Additional Voices
ROBYN RYBNIK Afanna Edici, Hjotra Faleria, Ila the Upright, Argonian Woman, Additional Voices
RIVER KANOFF Adius Vilius, Afer Famalius, Bjarni Shatter-Stone, Benuni Alfena, Doomsayer, Fadel, Hulgard, Harald Burdsson, Quintus Ambivio, Raaslan, Ungveir, Surilaron, Additional Voices
JAY33721 Edwarin, Thalmor Adjutant, Gryfard Peton, Additional Voices
JESSICA OSBORNE Atul, Urma gra-Shazur
JONAH SCOTT Ambric, Arnoth the Bright-Eyed, Bolar Gratius, Marc Dufonte, Razzada the Resplendent, Roland Wickhart, Servus Vodaci, Additional Voices
JOAO GUERRA Renod Even-Toned
JT DECKER Count Desilus Carvain
MATTHEW DIXON Agent Nurenor, Crouches-in-Crevices, Cerendil, Mysterious Bosmer, Additional Voices
MAURI MAJANOJA Rignar, Olaf Cold-Heart, Farsvar, Additional Voices
OLIVIA STEELE Alavva Venucius, Mucky Ovacca, Bodyguard, Additional Voices
PETER REYNOLDS Neldam Beloth, Stenar Ceno, Imperial Jailer, Mirich Ran, Additional Voices
STEVEN KELLY Armion
SHANNON HOBBY Eddvia Jucani, Herbalist, Additional Voices
TRENDANE SPARKS Crecius Rodlin, Dar'taqto, Elintius Rentilia, Neremus Agrecian, Ja'malgo, Dumrag gro-Morgg, Grushnag gro-Arkul, Penitus Oculatus Agent #2, Undead Servitor, Additional Voices
TRENT MARTIN Atienne Guilette, Encarnus, Penitus Oculatus Agent, Additional Voices
VULON/JEREMY KING Bentior, Gort, Retching Cornelius, Additional Voices
WILL HANDFORD Cedus Perusius, Eranir, Viscount Marcius Carvain, Additional Voices
ZRES Harthir, Reln-Tei, Additional Voices