Return to the lands of High Rock and Hammerfell. Experience new quests in the varied biomes of the Western provinces, from the wilds of the Alik'r to the winding streets of Daggerfall.
Two fully explorable provinces.
Travel to the Western lands of High Rock and Hammerfell, each carefully brought to life to be as rich as Skyrim itself.
Expansive, harsh wildlands.
From the snow-tipped peaks of the Dragontail mountains to the desolation of the Black Wastes, venture to some of the most remote locales on the continent. Lose yourself in rambling cave networks and ancient dungeons.
Vast new cities.
In High Rock, warm by the fire in snowy Jehanna, explore the bustling capital of Daggerfall, and experience the southern charms of Wayrest. In Hammerfell, haggle in the markets of Sentinel and gaze off the crags of Skaven.
Splintered relations.
Become entrenched in the depth of political struggles across the Iliac Bay, figureheaded by conflicting city-states and kingdoms. Assist in the power-climb of your chosen allies.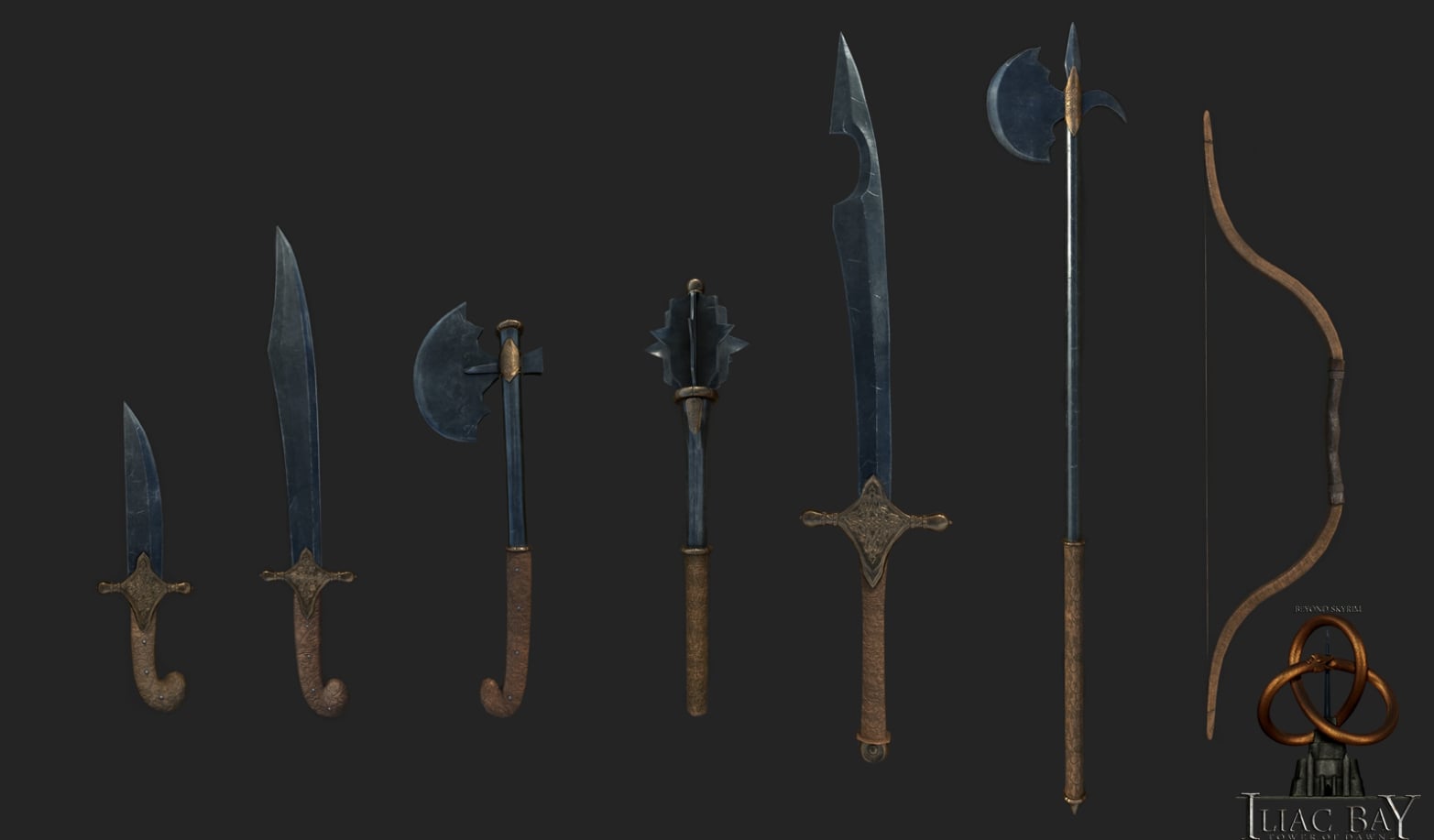 Weapons, armor, ingredients.
The Iliac Bay team have spent hundreds of hours crafting multiple weapon and armor sets for player use, in addition to new alchemy ingredients, magical artifacts, and unique, powerful loot.
An extensive, sweeping soundtrack.
Accompanying your adventure are hours of beautiful music, lovingly composed by our talented audio team.
Iliac Bay: Three Kingdoms
Iliac Bay: Three Kingdoms is the upcoming pre-release from the Beyond Skyrim: Iliac Bay team. Dive into both of our provinces, and get a look at what is in store for our full release. Featuring the kingdoms of Farrun, Jehanna, and the Abescean Isles.
Coming soon.
Beyond Skyrim: Three Kingdoms OST
Interested in joining Iliac Bay?
Actively seeking: Game writers, 2D artists, and 3D artists