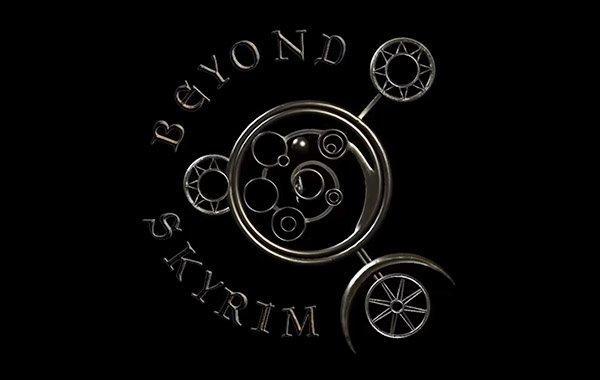 Cyrodiil
It's been an extraordinarily fast-paced few months for the project. Following a major boost in public interest following the recent GameSpot coverage of Beyond Skyrim, Cyrodiil has welcomed a whole cohort of new recruits, including a very significant influx of new 3D artists for the art department.
We've implemented the majority of NPCs for Kvatch, and begun getting their dialogue and schedules in-game as well, with quests (and remaining dialogue) to follow shortly and an eye toward resuming voice recording in the very near future. Numerous new dungeons and interiors have been created, including the first of our planned tomb dungeons using our crypt tileset.

Work is proceeding apace on art assets, from environmental props such as runestones all the way up to architecture tilesets, with Bravil interiors and Chorrol and Skingrad exteriors under aggressive development, while landscaping now has almost the entirety of Colovia fully landscaped to first-pass level and work begins on building the layout of Anvil in the game world as well as nailing down the final layout for Kvatch. Meanwhile, our composer, Daniel Ran, has begun working on major upgrades to his equipment and setup that will enable the new music coming with the rest of Cyrodiil to sound even better, taking on a new tone and feel.
We're very pleased with the progress we've made over the past few months, and particularly over the past year since the release of Bruma, and are very excited about the content we're cooking up. Be on the lookout for a very special taste of what's to come on the anniversary of Bruma's release.
Iliac Bay
After the release of our extremely successful teaser trailer with almost eight hundred thousand views and counting, we've had a tremendous increase of applicants and morale. Our level design team has been overhauling Jehanna and some other villages, ironing out bare areas, and creating more dungeon interiors. The 3D team has seen a tremendous increase in members working on new models for our pre-release. Also, our composing team has progressed further to a complete OST for Iliac Bay: Three Kingdoms.
Morrowind
The province of Morrowind has faced tragedy, fire, and destruction, but it once again rises from the ashes. Our concept artists, 3D modellers and level designers have been hard at work creating the unique look for our province. Here is some of the progress from the Beyond Skyrim: Morrowind Team:
First off, we have some newly-modeled 3D assets, including a war axe from our chitin set; some Velothi-style entranceways; and some new Hlaalu architecture. Hlaalu architecture can still be seen in Morrowind, largely in Sadras territory. Once a smaller House, Sadras replaced disgraced Hlaalu on the Grand Council.
We also have some landscaping screenshots from the Upper Bosarai, known for its lush greenery and limpid spring water.
And as always, we have lots more concept art to display. Here are some designs for Ashlander armour; a Dwemer interior concept; our concept for the Ordinators of War; and a new addition to Morrowind based on the same creature from Tamriel Rebuilt, the Hoom. A Hoom is an animal that has been largely domesticated and is used as a beast of burden. It is popular for its Hoom Cheese, though outlanders often find the smell off-putting.
Finally, enjoy listening to another original track by Eric Gordon, our lead composer.
Atmora
On top of new music, concept art, writing, meshes, and textures, we've been happy to see members continuing to join the team as key assets are made. While implementation has been making slow but steady progress, one of the major regions is currently on the third pass with our next merge coming in July. We had major overhauls on rocks and ice and we are very eager to present this to you soon.
As always, thank you for your support, we will share more with you soon.
Elsweyr
The landscaping team continue to work on the first pass of Northern Elsweyr (Anequina). The Northern Canyon region (finished by Polyznn) as well as the Saimisil Steppes (worked on by robcbwilson) have now had a completed pass. Landscaping continues on four other regions (the Dry Grasslands (Boato), the Rim (JoopvanDie), the Badlands (robcbwilson) and the Riverhold Hills (OMWDA)).
Munnin_Crow has been doing fantastic work bringing to life the various fur-stocks that will exist in Elsweyr. The first two, the Senche-raht and the Suthay are progressing well and we are all extremely excited to see them in game soon.
Finally, we have some more Pelletine concept art from Strokahof showcasing some of the houses from the region.
Through our partnership with Project Ta'agra, we are bringing to life the language of the Khajiit. You can see the first in a series of videos below.
Roscrea
Bigger is better, as the saying goes. Progress on Roscrea has been a bit of a blur lately, with particular attention paid to landscaping work. The main island of the archipelago – the eponymous Roscrea – has been expanded westward to allow for a larger explorable area. In this new landmass we will populate the island further with dungeons, settlements, and other points of interest. There's nothing quite like jumping into the development build of Roscrea and seeing this new and alien world coming together. I especially look forward to seeing the evolution of our work on the road to Frulthuul, the capital city of the Roscreans, with the intention being for it to be a journey of suspense and excitement as the Player is hurled into a land beyond the expectation of a common Tamrielite.
Further progress made on Roscrea have been our dungeons and quest locations. The team here strives to make the places the Player will visit both memorable and unique from each other. Certain examples that jump to mind are the native mithril mines, closely guarded and filled with mysterious creatures unknown to Tamriel, and the hideout of the infamous Corsairs, cutthroat pirates who uphold a bloodthirsty dedication to forces most sinister.
Another insightful look into Roscrea's culture is provided for us by the 2D art department. John Sherrill's concepts for the wayshrines of the Cults of Roscrea. The Cults are the religious and political factions of Roscrea and each and every one of them will have a unique cultural identity evidenced by their shrines. The most recent of these concepts is that of the Dragon Cult.
Another two months and more excellent progress made on the road to release. Be sure to keep a ready eye on the horizon for more news from Beyond Skyrim: Roscrea. And of course, as the natives of those far-off isles would say, "Civagh Dufus Aespar" ("Beware the Voices of the Deep")